From November through to January we ran an appeal for clothes, toys and learning materials.
With incredible support from the parents and pupils of Ipswich Prep School, the staff of Pound Gates and Sevatas, and, the Ipswich business community we have assembled a fabulous collection of items to send to Kenya. We are now planning the final logistics to get our donations there.
Following Kevin and Rob's visit to Kenya in September we established that providing clothes, toys and learning materials would be of huge benefit to some very disadvantaged children. The visit included a meeting with Mama Sarah Obama and from this Soma Leo has formed a partnership with her eponymous charity (MSOF).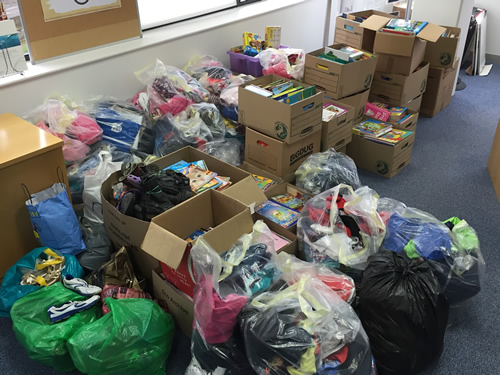 We collected items suitable for children aged between 3 and 11, both boys and girls, who attend The Soma Leo Academy and Senator Barack Obama Primary School, a community school supported by MSOF. In addition we will be providing items to children in the communities where the schools are based and other schools in the areas, being Nyiera/Osieko and Kogelo. Further to this we will provide items to children living in New Light Children's Home, an orphanage for boys in Kilifi north of Mombasa.
Currently the schools and children have extremely limited access to learning materials. This hugely impairs their learning experience while at school and means no active learning and reading happens away from school. Beyond the items donated, Ipswich Prep School also collected nearly £2,100 from parents attending various events in December. This money is being used to purchase further classroom equipment and school bags.
The children are amongst the poorest in their communities so providing clothes releases a significant economic burden that indirectly helps ensure the children's attendance at school. Donated clothes will be shipped separately to the other items, per Kenyan import regulations.
The opportunity to learn through play is well established. Over the four days of our visit we saw only one toy. This perhaps is understandable given the financial priorities of the communities. Providing simple toys as gifts will be uplifting for the children.
Ipswich Prep School has donated over 100 laptops and PCs, as well as exercise and reading books. The retailer, Coes, have donated some end of line school uniforms and Colour Five have donated thousands of exercise books. In addition, Bentek have provided a commercial photocopier that will go to MSOF's office in Nairobi. When we combine these with the Appeal donations we have fabulous consignments that will make a dramatic impact on the lives of the beneficiaries.
This Appeal will only be successful thanks to the support of our partners which also includes Crown Relocations for the provision of packing facilities, UK logistics and container shipment to Kenya and Big Yellow Self Storage for providing storage facilities.
Thank you to all our supporters.